WATCH THIS WEEKS
Welcome Video
2020 Service Archive
Our service archive from quarantine in 2020. 
Our Family Care team is here to serve you and your family in diverse times of crisis and need. At any point in our lives, we can be moving forward in life and a crisis hits, and we either stop moving forward or we are knocked backward.  This affects us individually, but also, when one person in a family is suffering, it begins to affect the whole family.  It is at this time, that our staff and volunteer Family Care teams join to walk alongside you and each member of your family to provide Care, Connections and Resources to holistically care for you.
We are continuing to build Care teams that provide meals, grocery shopping, cleaning, car and home repair and other services on a case-by-case basis. If you are looking for a simple way to volunteer at New Life, we would love to have you join our team in this area!
Connections and community are key to bringing healing in our lives. Often, we feel we are alone in the hard things we are walking through, and we are afraid to be vulnerable and share the pain of our stories. We have found that as we share our pain with others that we can find community to lock arms with us and join us in our journey. Our one-on-one connections provide an opportunity to sit with someone who has a similar story and is a little ahead in their journey. There is power in sharing your story and having someone who understands and who is able to empathize with you.  Our small groups provide connection with others in a safe group setting to dive into deeper waters of healing together.  If you would be interested in sharing your story to assist another in their journey of healing, please connect with us!
Lastly, we coordinate with our church and community to provide resources that will help you in your journey towards healing. Counselors, classes and workshops, retreat centers, and books are areas we are researching to walk alongside you.
If your family is in need of care, connections or resources; or you are interested in volunteering with our team to walk alongside others, we would love to connect with you. Our email is familycare@newlifechurch.org, it would be a joy to meet you.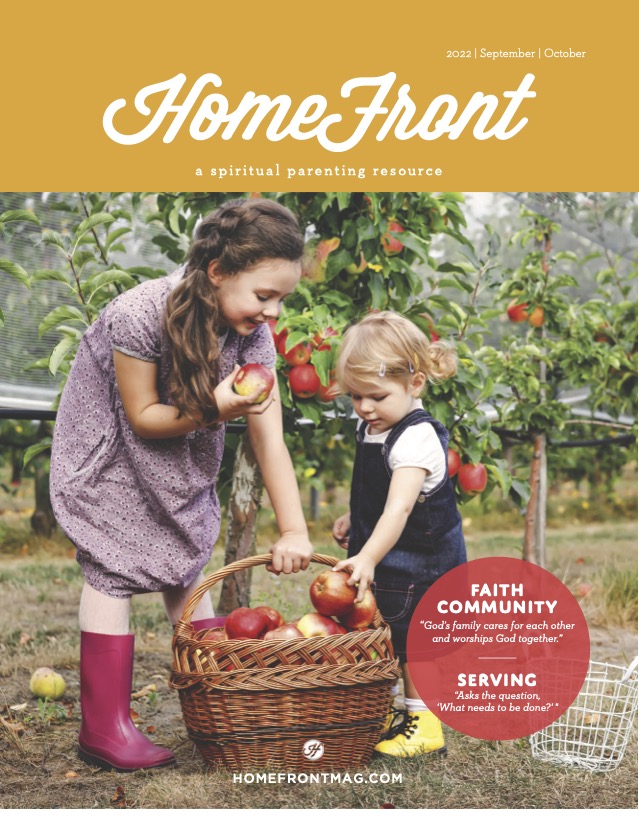 September/
October issue available now!
HomeFront is a digital bi-monthly magazine and parenting curriculum combined into one – based on the 10 Environments highlighted in the book Spiritual Parenting by Dr. Michelle Anthony. It is filled with recipes, craft ideas, stories, and more to inspire, equip, and support you on your parenting journey.